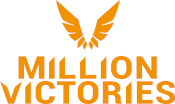 MILLION VICTORIES
75 rue Francis de Pressensé
69 100 Villeurbanne
France
---
Date : 02.09.2022
Reference : AFJV-ETES1515-23752
Million Victories
Million Victories is an independent game studio based in Lyon, France and has a team of more than 30 passionate professionals working on creating and developing innovative MMOs for midcore players on mobile.
Having secured its new investment round of 3 million dollars, Million Victories is now expanding its existing game to new highs.

We currently have more than 20,000 daily active users and we aim to double this KPI by the end of the year.

Working for Million Victories means :
- being part of a team expanding a fast growing game
- managing a consequent marketing budget to acquire new players
- having his / her initiatives and work considered and recognized ;
- enjoying a large autonomy in organizing his / her work ;
- joining a welcoming and committed team.